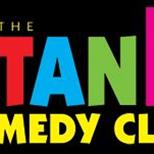 Tickets for events at The Stand Comedy Club, Newcastle
Sorry, there are currently no shows available.
Step-free information
Access to The Stand Comedy Club Newcastle is through our main entrance on High Bridge. The street has a footpath in fair condition and the road is cobbled. We have liaised with Newcastle City Council and installed a purpose-built fully accessible hydraulic lift to allow access to the venue. Customers wishing to access the lift will come through our cafe/bistro and into the courtyard where the lift is situated. This is covered by a weatherproof canopy ensuring that anyone using it is kept dry and comfortable. The lift is designed to hold two persons so if assistance is required it can be accommodated. The lift is an Artico 7000, please follow the link for technical data on style and capacity if required. Once downstairs we have a 1/12 ramp installed to allow customers who require wheelchair access to obtain their ticket from the box office and enter or exit the venue easily. We would be more than happy to provide additional information on any access issues if required. Please email admin@thestand.co.uk for any additional information.
Wheelchair Access
Due to fire regulations our venue is permitted one wheelchair user per show. Customers with accessibility requirements are asked to contact us at admin@thestand.co.uk to make arrangements.